What is Retail Development?
At Blocknet, we develop strategic plans for our partners in retail development. We believe that any solid retail development plan includes the assessment of a geographical region in the form of a demographic report, detailing a number of different factors. Depending on your business, you'll want to make sure that you are planting roots in a location that is optimized for your needs. A retail development demographic report can help you do this.
As part of Blocknet's retail development focus, we develop customized demographic reports for the area where you are considering setting up your franchise location. This demographic information also helps in retail development by taking a lot of the guess work out of whether you are choosing the right location for your store. Our strategic planning process will identify appropriate target retail trade zones or "nodes", as we call them that specifically match your target customer profiles.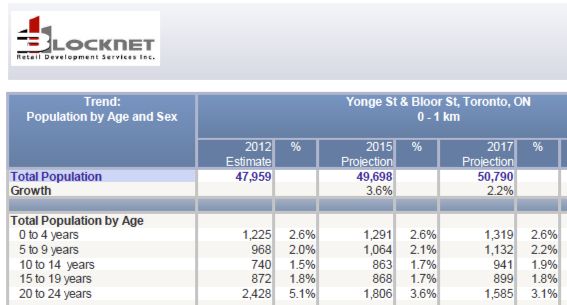 Demographic Reports – A Great Retail Development Tool
Retail Development is about so much more than simply choosing a location that is densely populated. You know who your core clients and customers are. Our intensive reporting covers deep demographics, including average age, income, spending habits and more. This level of research is invaluable when you are determining the right place to set up your retail expansion.
Retail development is about determining the highest level of success for our clients. You can sign up for a free demographic report today, or you can order multiple demographic reports for an area if you are considering multiple potential locations. Our demographic reporting will go a long way in helping you set up a retail expansion project that is driven to succeed.
If you have any questions about how to get the process started, please let us know. Feel free to contact us and we'll be happy to discuss any ideas or answer any questions you have.